At Caryl Baker Visage we are dedicated to providing the most advanced skin care options for our clients, and we are thrilled to be adding Microneedling to our roster of progressive, non-agressive, facial solutions!
AWARD WINNING TECHNOLOGY
The Eclipse MicroPen® Elite is an advanced automated Microneedling device because of its mobile capabilities designed to glide over the skin. In addition, the MicroPen® has been honoured with the Aesthetic Industry Award for Best Microneedling Device.
The Eclipse MicroPen® Elite has been featured on The Doctors', and the procedure is described by Dr. Sandra Lee herself as the "anti-aging tattoo". Not to mention, that Microneedling is endorsed by world-class medical professionals and celebrities.
SAFETY FIRST
The Eclipse MicroPen® Elite is inherently safer than similar products on the market, such as competitive automated pens and dermal needling rollers. It delivers greater efficiency and superior clinical results while maintaining the highest level of safety for both our clients and our Face Experts. It is also safe for most skin types, which means it is a great procedure for almost everyone!
Each service is completed in our Health Canada approved locations with a single-use, disposable Turbo Safety Cartridge - featuring 12 stainless steel needles, while the hand-held base of the needle is covered by a sterile safety sleeve to protect the device from cross-contamination.
CERTIFIED FACE EXPERTS
Each service is carefully performed by a fully-trained Face Expert that has been officially certified in Microneedling. All Face Experts at Caryl Baker Visage undergo 1000 hours of professional coaching, theory, and practical hands-on training at our Head Office Beauty Academy as well as in-salon hours before ever servicing a client. We offer a comprehensive course that covers all aspects of skin care, cosmetics, facial services, and retail best practices to fully develop the skills and understanding of our staff in order to provide you with absolute excellence.
Microneedling is a non-surgical method known medically as 'Collagen Induction Therapy' – which involves repeatedly puncturing the skin with tiny, sterile needles, (delivered by a high-speed automated needle tip) that create holes in the skin.
To repair the holes in the skin caused by the needles, collagen will begin to rebuild - shrinking the size of pores, wrinkles, and acne scars, minimizing dark spots, and smoothing uneven skin tone. Overtime, and with multiple Microneedling treatments, the skin's tone and texture will improve revealing more youthful, smooth and supple skin.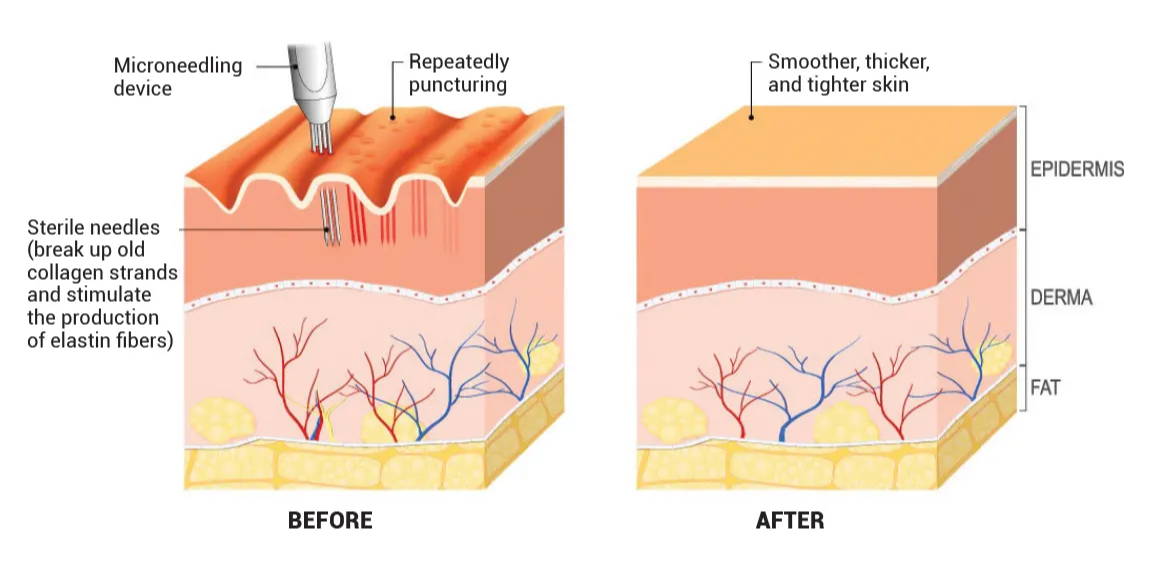 What Our Clients Are Saying...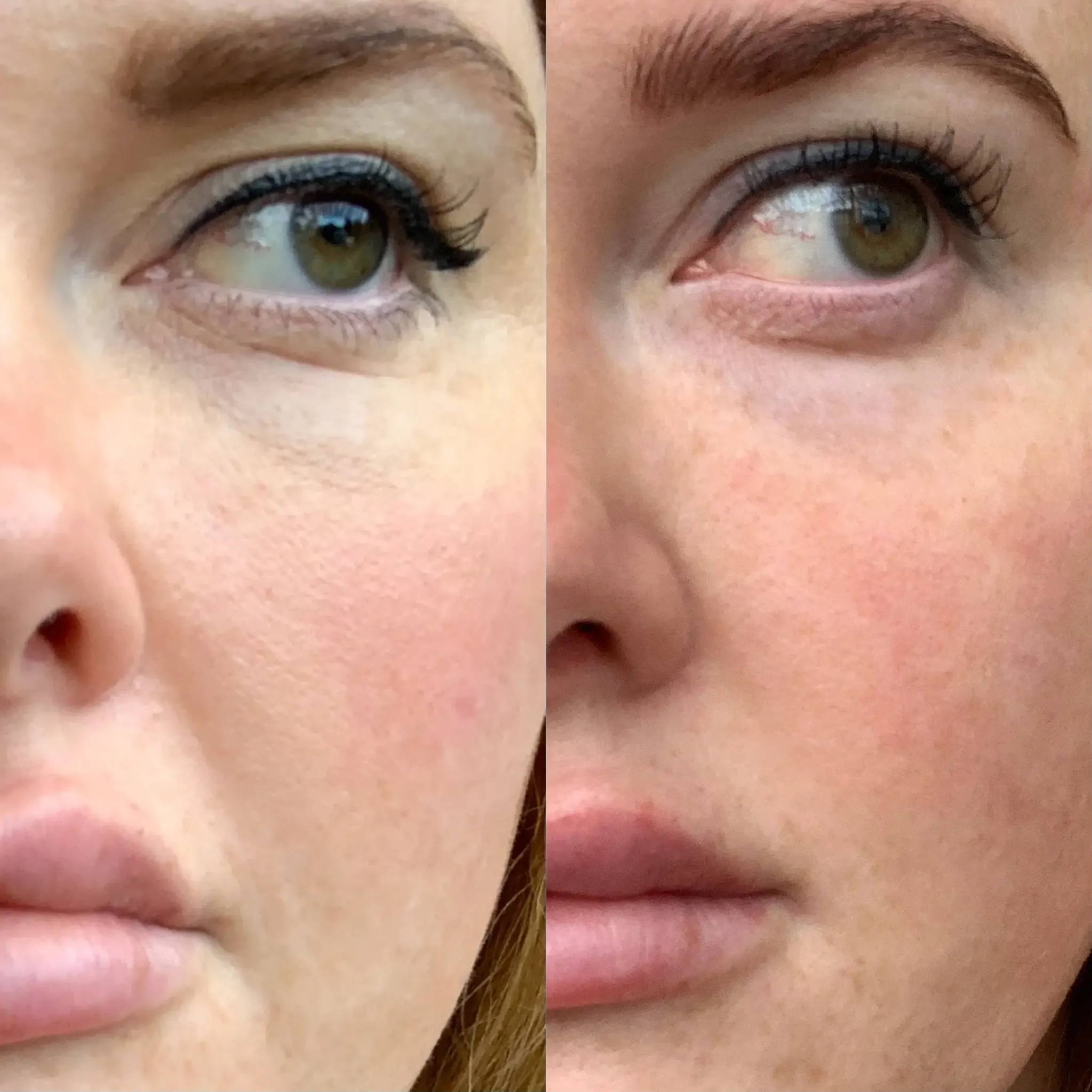 "I am so happy with the results of my Microneedling treatments! I have been dealing with premature signs of again as I approach my 40s and am not ready to take the plunge into injections. After my third Microneedling treatment I noticed the crepey skin and hallowness under my eyes begin to transform! Leaving me with a smoother, more plumped and refreshed look. I have also noticed the fine lines in my nasolabial fold diminish, and a small reddish scar on my cheek completely disappeared! I have been receiving compliments from friends on how smooth my skin looks, my pores have basically vanished! This is exactly the non-invasive preventative ageing treatment that I have been looking for. I experienced no pain during my treatment and by my third I even opted to skip the numbing cream!"
- Karyn, Cambridge, Ontario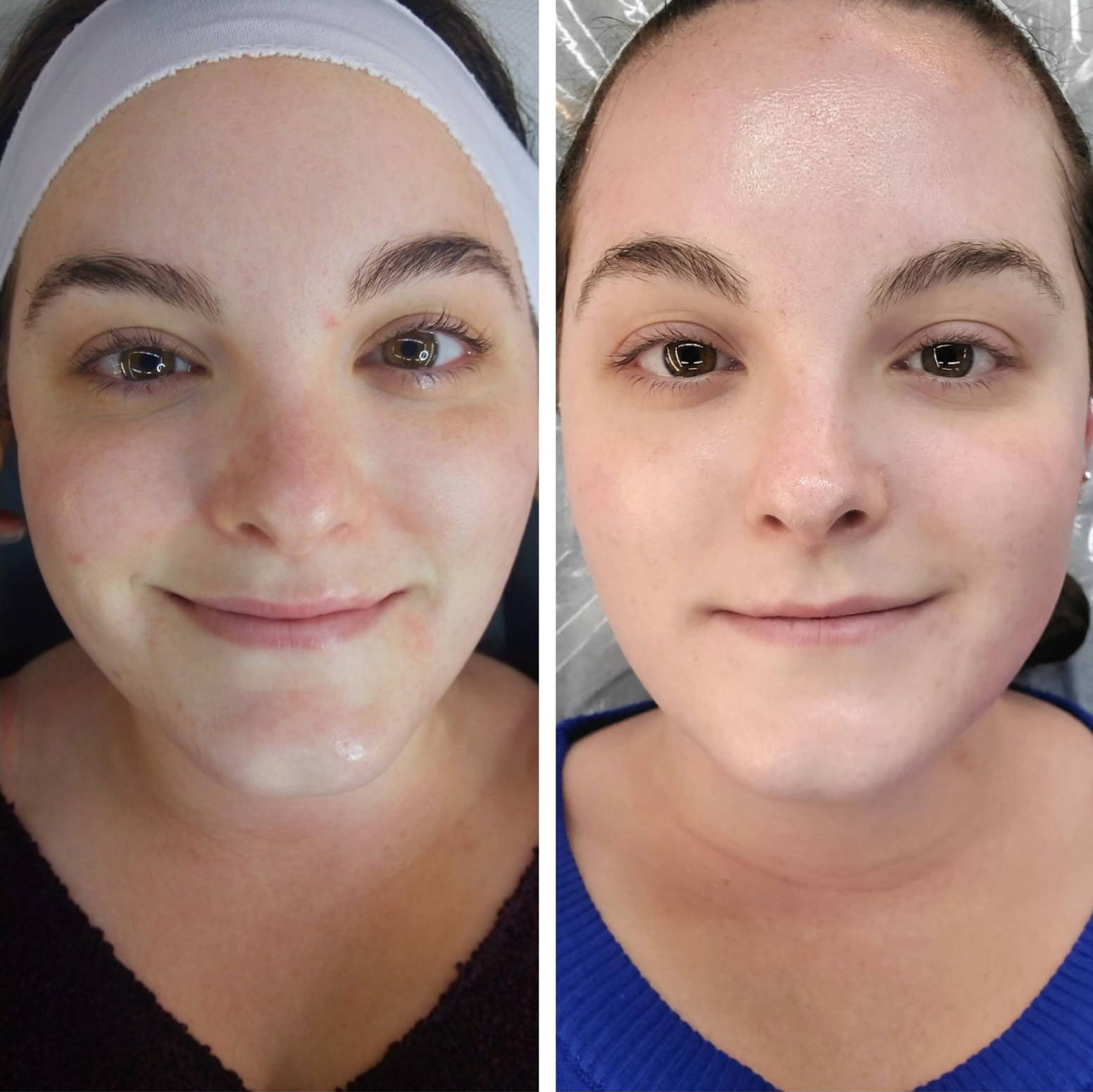 "I am absolutely loving the results I am seeing after my 4th Microneedling treatment. I was looking for both corrective and preventative results, with my acne scars causing discolouration, form my teen years, as well as my skin starting to show signs of aging. Before I tried Microneedling, I could see every imperfection on my skin. After my 1st and 2nd treatments, I started to see everything start to fade and my skin had become unison in both tone and texture. I honestly could not believe it at first! I was also so happy when I also realized how much plumpness and smoothness the Microneedling service gave to my face. It is such a quick treatment with little downtime and I find it to be gentle on my sensitive skin. My daily make-up routine of trying to cover-up imperfection marks on my face and darkness around my eyes has diminished, which is something I never thought I would be able to say!"
- Amanda, London, Ontario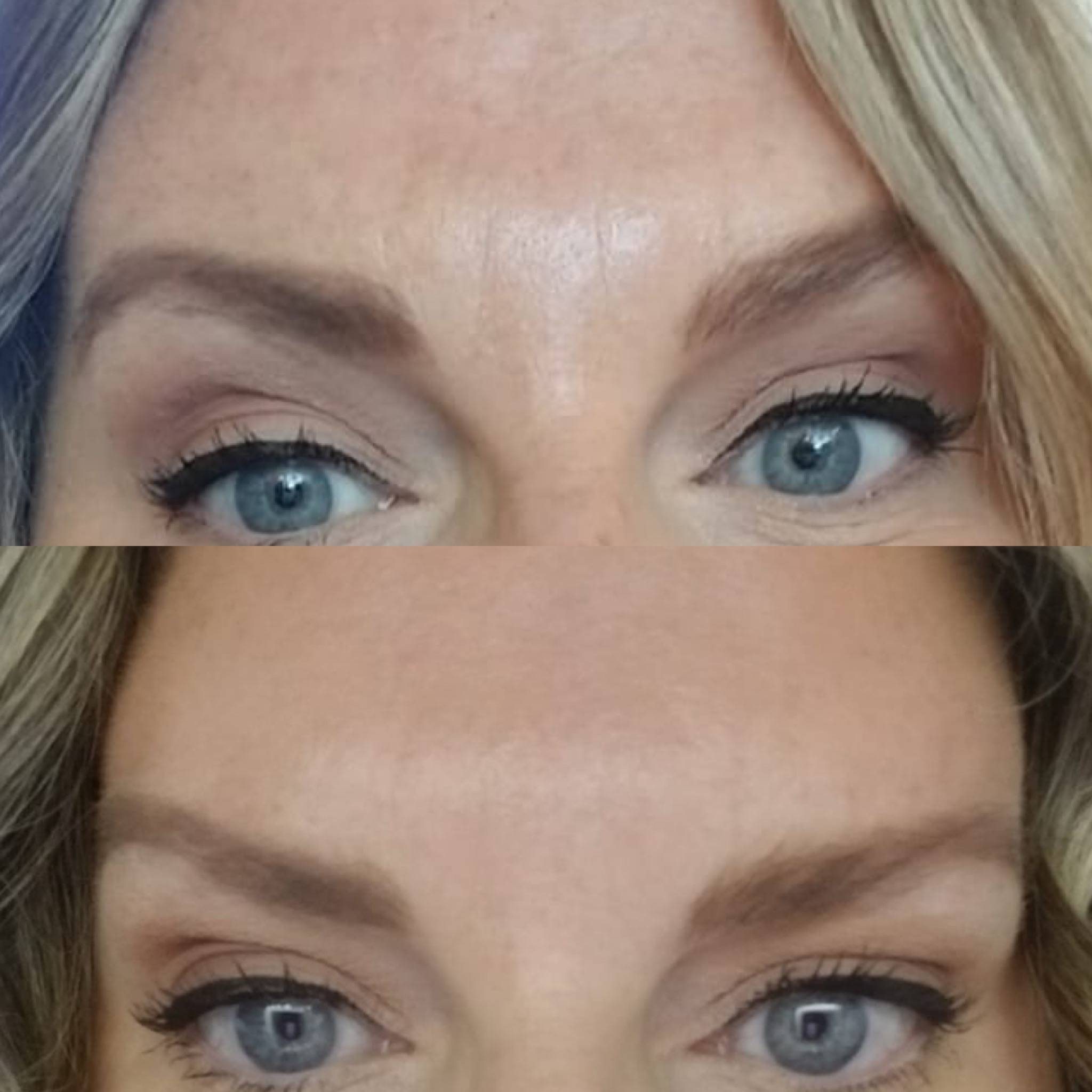 "I will start by saying I I have used Botox in the past to fight the signs of aging but I did not love the tight feeling that it left in my face. I have been searching for a less aggressive approach to aging and decided to take the plunge and try Microneedling - and I am SO HAPPY that I did! I could not believe how my 11's (the two vertical lines between my eyebrows) have plumped up after my very first treatment - they are so much softer! I look so much more rested and my skin is so smooth! I am excited to see what my skin will look like after my second, and third treatment!
- Victoria, Toronto, Ontario
What does Microneedling feel like?
The feeling associated with the Eclipse MicroPen® Elite is similar to light sandpaper being moved across the skin. While some areas are more sensitive than others, the speed of the reciprocating tip reduces discomfort while the applied hydrating Hyaluronic Acid Serum also makes the treatment more tolerable. When numbing cream is used prior to your Collagen Induction Therapy procedure, patients find Microneedling very tolerable - most clients report not feeling anything at all. PLEASE NOTE: the service may cause some discomfort, pin-point bleeding, redness, and irritation.
Will I See Results Results Immediately?
Directly after your Collagen Induction Therapy treatment, you should expect your skin to appear red (looks very similar to a sunburn). The results attained through Microneedling are not immediate because your body needs to create more collagen to repair the 'injured' areas of your face. However, as time passes, you will notice positive changes in your skin. Results can continue to improve for up to 6 months.
How Long Does The Treatment Take?
The procedure takes approximately 60 minutes.
How Many Treatments Will The Average Patient Need?
Since each patient is unique, the number of treatments needed is determined at the initial consultation. That said, to achieve optimal results, the majority of clients require between 2-3 collagen induction therapy treatments over a span of 4-8 weeks. Clients with deep wrinkles, severe sun damage and/or scarring, will need more treatments than individuals who only needs treatment for fine lines and wrinkles. Once satisfied with the results attained, it is recommended to return, on average, every six months to maintain results.
Immediately after the treatment, clients will notice a bright redness, pinkness, or dryness to the skin for up to 7 days (this varies by skin type). Moderate inflammation may also be experienced as well as a light flaking of the skin – these reactions are completely normal steps of the healing process. Daily application of the Caryl Baker Hyaluronic Acid Serum can help speed up the healing process.
Our face and neck Microneedling service starts at $280 per treatment ($252 Beauty Club Members) and we also offer special service bundles and combination Facial Therapy options. Please ask your Face Expert for a complimentary consultation.
What Are The Aftercare Procedures?
• Client should not touch their face or apply any product for the first 4 hours post- treatment in order to allow micro channels to close
• Apply Caryl Baker Hyaluronic Acid Serum 4 hours following the procedure to calm and soothe the skin. You may feel a slight tingle, but this will subside
• Avoid direct sun exposure for 1-month as the stratum corneum takes 28 days to replenish itself from the mechanical injury for Microneedling. Wearing a hat and daily application of sunscreen is essential to protect the skin
• It is recommended to avoid exercise, steam or hot showers, and sun exposure for 72 hours post-procedure
• Change pillowcase/bed sheets the day of treatment
• Sanitize cell phone and glasses with alcohol
• Sanitize hands, avoid touching the treatment area, and keep hair away from the treatment area
• No waxing, threading or shaving for 2 weeks post treatment (tweeze with caution)
• You may start gently cleansing your face the next day with a mild cleanser prescribed by a CBV Face Expert.
• Avoid applying any skin care products containing active ingredients/natural acids for at least 7 days
• It is recommended to wait at least 48 hours to apply any makeup. Make sure to wear a mineral base makeup, one that does not contain any oils
• For optimal results, a series of 2-3 treatments over a span of 4 to 8 weeks is recommended. Problematic skin may require more treatments.
---
Currently Available At Select Locations

Bramalea City Centre - 905-793-6293
Centerpoint Mall - 416-226-3122
Devonshire Mall - 519-966-5480
Exchange Tower - 416-214-6631
Fairview Mall - 416-498-4533
Lime Ridge Mall - 905-385-4951
Mapleview Shopping Centre - 905-637-4336
Masonville Place - 519-679-0034
Square One Shopping Centre - 905-848-6655
Upper Canada Mall - 905-836-8577
Oshawa Centre - 905-404-0223
Outlet Collection at Niagara - 905-684-6041
Pickering Town Centre - 905-420-8234
Promenade Shopping Centre - 905-881-7997
Scarborough Town Centre - 416-296-2036
Sherway Gardens - 416-622-6667
Toronto Eaton Centre - 416-348-0201
The Pen Centre - 416-622-6667
Vaughan Mills - 905-597-6559
White Oaks Mall - 519-686-1414