FREE EAR PIERCING WITH PURCHASE*
Our Ear Piercing service is complimentary with the purchase of our pre-sterilized piercing earrings!
The #1 Ear Piercing Destination Trusted by Canadians, Specializing in Infant and Child Ear Piercing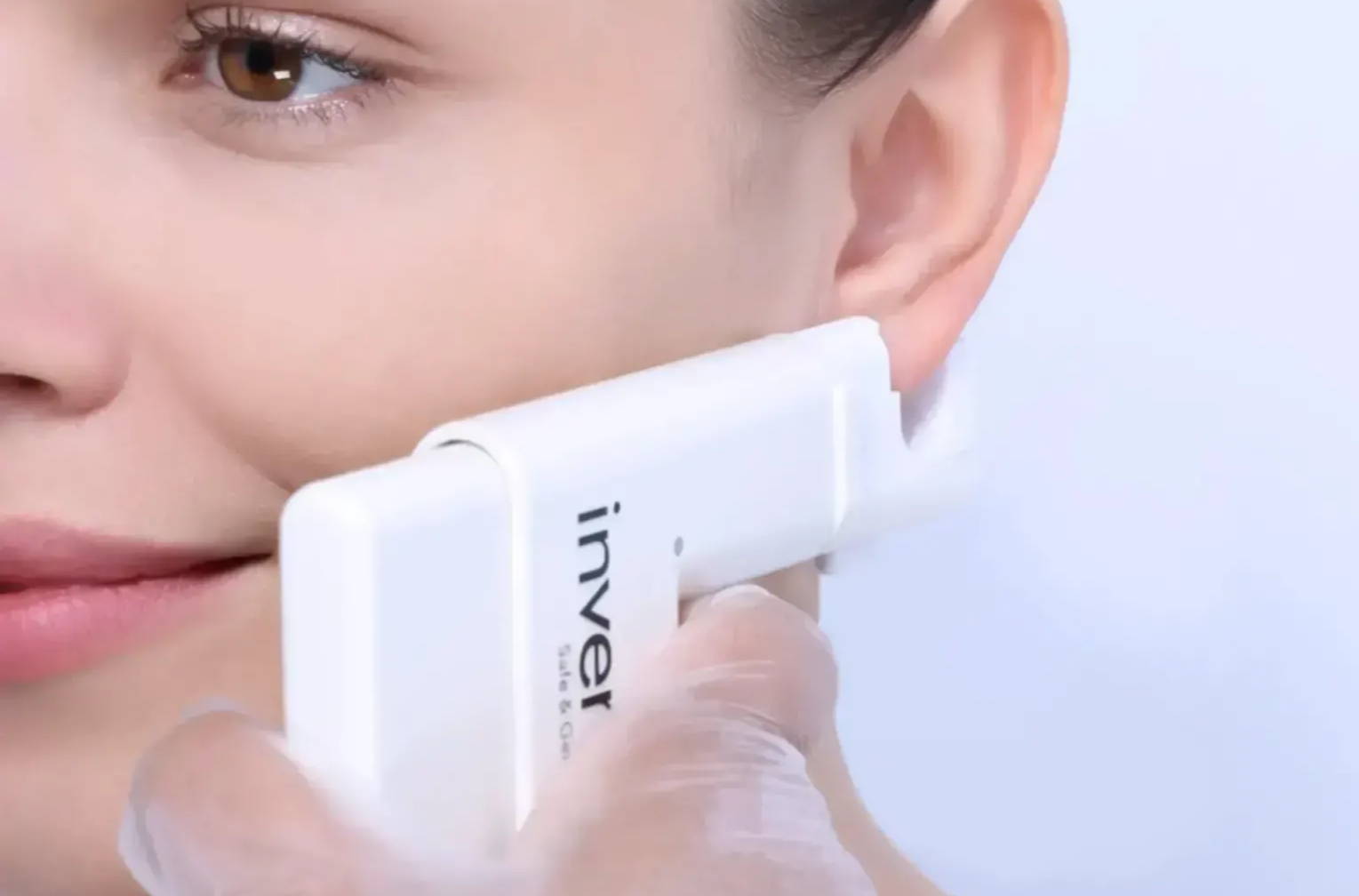 QUICK & GENTLE
We are committed to making sure your ear piercing experience is the best it can be by providing the safest, most technologically-advanced ear piercing system available. Our system safely & quickly pierces ears in 3 EASY STEPS using a gentle, hand-pressured instrument and sterile, pre-sealed, hypoallergenic piercing earrings.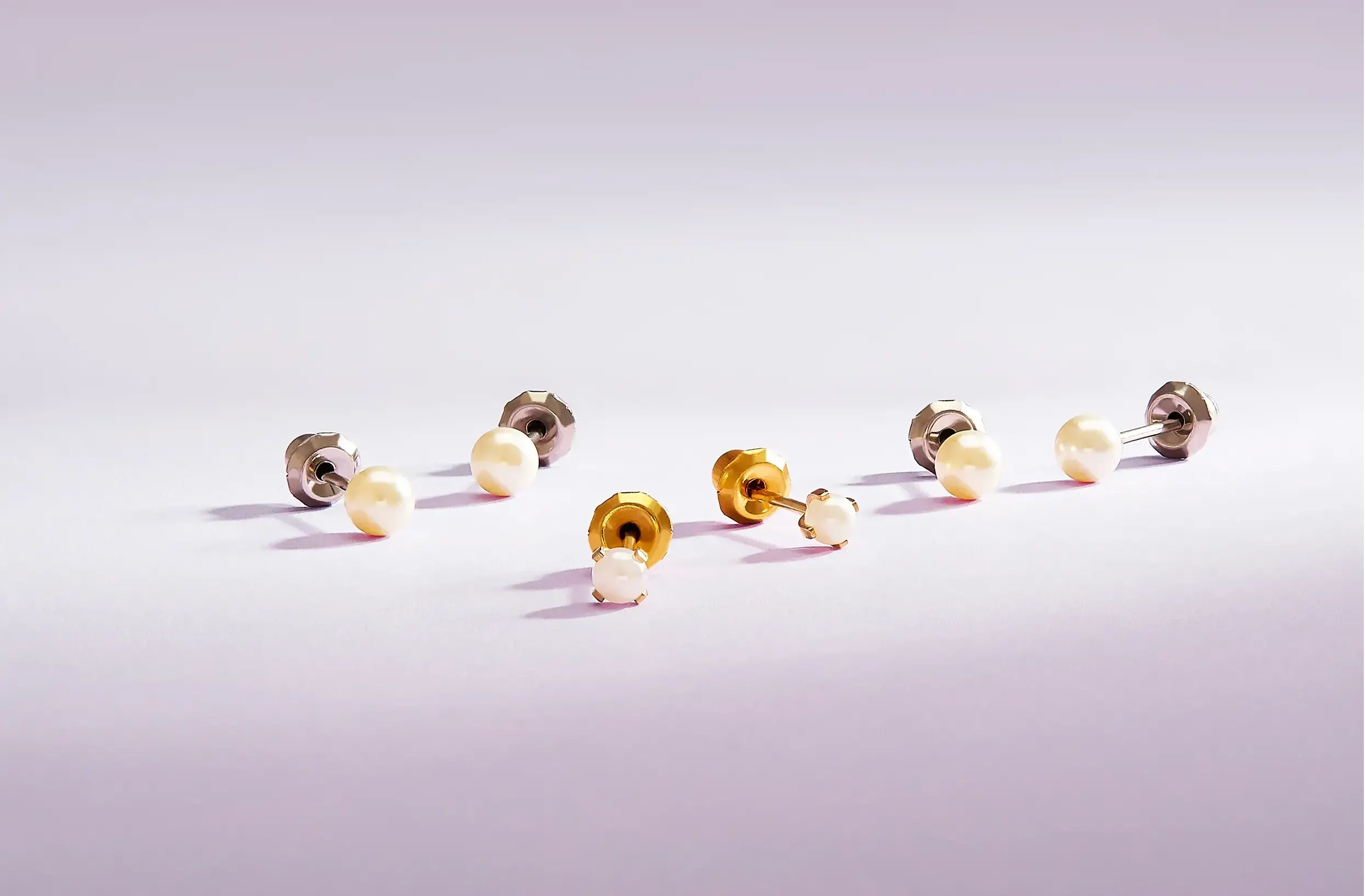 SAFE & STERILE
When it comes to choosing the jewelry you will be wearing for the 6 or 12 weeks it takes for your piercing to heal, it's important to make the right choice. Our pre-sterilized earring capsules ensure the safest ear piercing possible by preventing the piercing earring and Safety Back™ from being exposed to possible contaminants prior to piercing.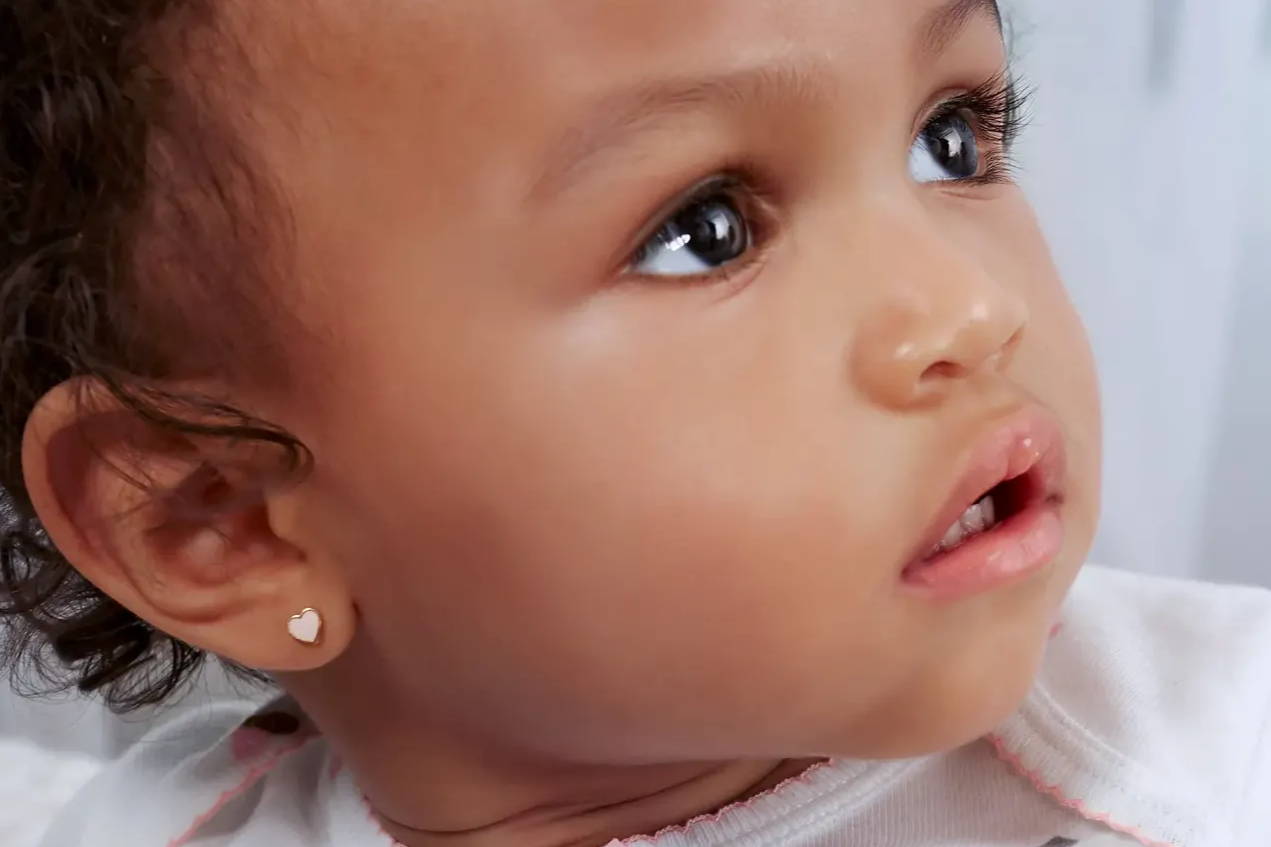 TRUST & MEMORIES
At Caryl Baker Visage, we understand ear piercing. We know that it's about so much more than a new earring. It's a rite of passage; a moment of trust. We are committed to making sure your experience is effortless by providing the safest, most technologically-advanced ear piercing system available. Focus on the memories; we'll handle the rest.
Our piercing earrings are as unique as you are. Sparkling crystals. Bold designs. Brilliant cubic zirconia. Colourful flowers & butterflies. Timeless gold balls and classic gems. All in a range of sizes & metal choices to match your look and your budget.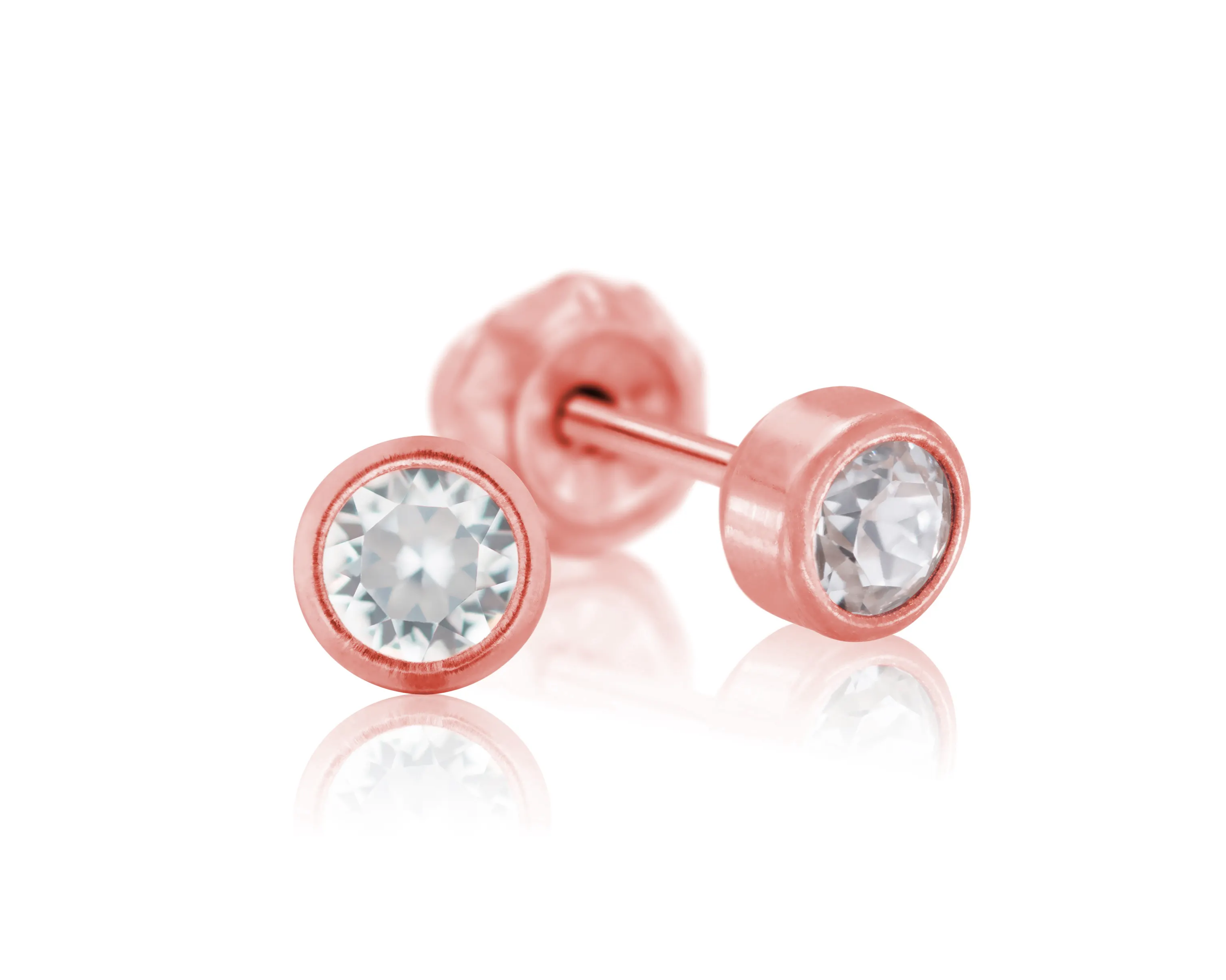 What Our Clients Are Saying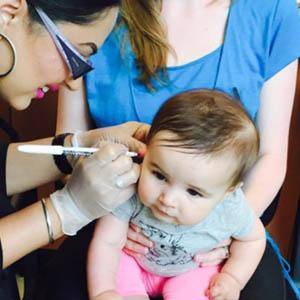 "Hi, my name is Marie and I visited the Visage store located at Sherway Gardens on June 13th. I had called earlier that day to make an appointment for my little girl who's 5 months to get her ears pierced and one was made no problem. Upon arrival, we were greater by a service person named Carolyn.

The whole entire experience that I dreaded turned into an absolutely fantastic experience. It was all thanks to Carolyn. She took care of my little girl like she was her own. Smiles, a little crying and then all smiles again. You don't know how relieved I was that my little girl was so cool with the entire experience. I don't usually leave any experience reviews or anything, but I believe Caroline deserves this recognition. Amazing! Happy and will recommend her to everyone and anyone I know including random strangers. Please forward this to Carolyn. She deserves to know :)
- Marie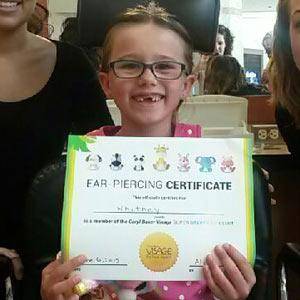 "Last night, I got my daughter's ears pierced at the Scarborough Town Centre location by Michelle. I just really wanted to commend her for her patience and customer service overall. She was really patient and courteous with me, and she did not pierce my daughter until we were both satisfied with the placement of where the earring would go. I am really happy with the results and my daughter's ears look great. Michelle did an outstanding job.
- Karla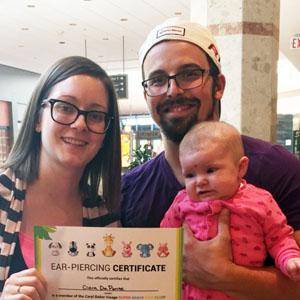 "I would just like to take to opportunity to express the awesome service I had at the Bramalea City Centre location. Yesterday (Monday Aug 4th) I took my 3 month old daughter to get her ears pierced and we were serviced by Brittany. She was absolutely amazing. She showed us exactly what she was doing, and all the precautions that are taken to ensure everything is sterile, but I'm sure that is training. I was so taken back by her demeanor, she was genuinely a kind person. She was great with my daughter and did her best to make me feel confident in her capabilities. As a parent with a new baby, I am of course concerned with her well-being, and piercings are not the most comfortable of situations. Overall, Brittany was absolutely AMAZING!!!! I would definitely recommend anyone and everyone to her for piercings. I really hope that you are able to communicate this to her manager.                
- Laura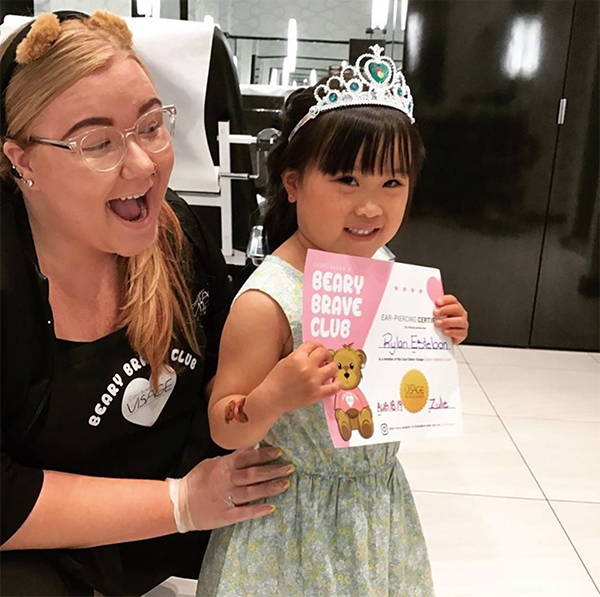 Having your child's ears pierced is a very important milestone to be remembered – that is why Caryl Baker Visage has introduced a brand new ear piercing experience that has been carefully crafted for both you and your child!
HOW DO I BECOME A MEMBER?
You automatically become part of the Beary Brave Club when you have your Ears Pierced for FREE with the purchase of Earrings by a Certified Caryl Baker Visage Ear Piercing Expert!
WHAT DO YOU GET WHEN YOU JOIN?
• A Beary Brave Bear Sticker OR Temporary Tattoo
• A Beary Brave Club Certificate
• A totally fun and memorable Beary Brave Ear Piercing experience!
What is the minimum age for ear piercing?

The minimum age to pierce an infant's ears is 3 months. Parental written consent is required if under the age of 16. Please note, that we only pierce babies with 14KT Gold earrings.
How much is ear piercing and what styles of earrings do you carry?

We offer FREE Ear Piercing with a purchase of earrings for all women, men, children and infants. All of our earring styles are completely sterile and encapsulated and meet all of the Health Canada ear-piercing guidelines. We offer 14KT Yellow Gold, 14KT White Gold, Surgical Steel, Titanium and 24KT Gold Plated Earrings in beautiful styles of pearls, birthstones, crystals and cubic zirconium. Styles start from $39 and with 14KT Gold starting from $59.
Do you use a piercing gun or needles? 

Our fully certified Face Experts only use the safest, most pain free and technologically-advanced ear piercing system available - the Inverness® system. Inverness® uses pre-sealed hypoallergenic piercings that make it impossible for exposure to contaminants prior to piercing, making piercing clean, perfect and fast.
Do you offer nose and cartilage piercing?

We offer nose and cartilage piercing at select locations. Please call a Caryl Baker Visage near you for more details.
What kind of training do your ear piercing experts have?

Caryl Baker Visage has been successfully piercing ears for over 30+ years. Our Face Experts at Caryl Baker Visage have been trained with the Inverness system and have experience in baby and adult ear piercing
Do I have to make an appointment for ear piercing?

We certainly welcome walk-ins, but we recommend calling a Caryl Baker Visage near you to pre-book an appointment.
What is your return policy on earrings?
Our return/replacement policy for all Inverness earrings is 4 months from date of purchase with receipt. Note: We are not responsible for lost earrings.
How do I care for mine or my child's new ear piercing?
For earlobe piercing, leave the earrings in for six weeks. For cartilage piercing, leave the earrings in for twelve weeks.
DURING THE HEALING PERIOD:
1) Always cleanse hands prior to touching your ears.
2) TURN earrings twice a day completely around to prevent them from adhering to the ear. DO NOT REMOVE EARRINGS.
3) CLEANSE the pierced area at least twice a day using a clean cotton swab soaking both sides of the ear with Inverness Ear Care Antiseptic, or Dr. Pierce Body Piercing Cleanser for nose and cartilage piercings, which inhibits the growth of bacteria and promotes healing. Inverness Ear Care Antiseptic has been specially formulated to provide the best and most effective aftercare for newly pierced ears.
4) Keep the pierced area DRY and CLEAN, especially after swimming or exercise. Moist environments breed bacteria and can cause severe infection. Immediately cleanse after using shampoo, hair products, spraying cologne, after swimming in a pool or hot tub and exercise. Keep hair away from ears whenever possible during the healing period.
5) Take extra care when removing clothing over the head or brushing hair, so that earrings don't get caught. Exercise care when participating in sports or play. NOTE: As a safety precaution, the jewelry is designed to release when caught to avoid tearing of the skin.
AFTER THE HEALING PERIOD: For the first six months, do not go longer than 24 hours without earrings to prevent the hole from closing. You may want to file down the points of your earring posts with an emery board to make them more comfortable to insert and to avoid reopening the healed area. Clean the earring with Inverness Ear Care Antiseptic before reinserting.
EARLOBE: In many cases, returning to proper aftercare procedures will clear up an irritation in the earlobe. CHECK to see if earrings are too tight. LOOSEN if necessary, and increase cleaning frequency with Inverness Ear Care Antiseptic to three times a day. If problem continues, remove earrings and seek medical attention immediately.